Going into each and every Oscar season, there is always a film that prognosticators bet on from the start. Angelina Jolie's
Unbroken
was that movie this year. The prestige drama, which is based on the true story of Olympic runner and war veteran Louie Zamperini, appeared to have everything going for it. Unbelievable true story about overcoming obstacles? Check. Famous director? Check. World War II movie? Check. However,
Unbroken
has pretty much fallen off the Oscar radar. Ever since the film premiered, journalists have written this film off as a non-contender. Why the sudden switch? It might have to do with the fact that the film isn't all that good. It certainly isn't a complete fiasco, but it's safe to say that this movie could have been much more engaging and interesting.
Unbroken
tracks about 20 years in the life of Louie Zamperini (Jack O'Connell), the Olympic runner who became a fighter pilot in the Pacific during World War II. Louie starts out his life as a troubled child. He's always running from the police, drinking liquor and stealing stuff. Eventually, Louie's brother Pete realizes that Louie is really fast. He becomes a world-class athlete, and actually ends up traveling to Berlin for the Olympics in 1936. A few years later, Louie ends up fighting as a bombardier during the war. But when his plane crashes in the middle of the Pacific during a routine flight, Louie's life changes forever. His journey takes him through a horrific 48 days at sea, before he's sent to a Japanese internment camp where he is at the mercy of Watanabe (Takamasa Ishihara), a disturbed, violent prison guard. Louie becomes stronger than ever and refuses to be destroyed by the circumstances in front of him.
I haven't finished Laura Hillenbrand's best-selling novel based on Zamperini's life yet, but so far, it's a highly engaging book and it's easy to see why so many people are fans. And it's also easy to see why so many of the book's fans are upset by this movie adaptation. Jolie's film barely scratches the surface of the story, skimming over Louie's childhood and not allowing any of the supporting characters to be truly interesting or engaging. However, most people familiar with the true story are enraged over the end of this film. In Hillenbrand's novel, the book goes on to explore Louie's PTSD and path to forgiveness after the war. The film ends when Louie returns from war. I couldn't possibly comment because I haven't gotten that far into the book yet, but it's easy to see why fans are enraged.
The main problem I had with this film is that it's miserably overlong and repetitively tedious. For a story this spectacular, it's amazing that
Unbroken
is so completely bland and uninteresting. The film's first scene is truly incredible, depicting an awesome aerial battle in the Pacific. I was very impressed by this start. I have to admit, going into this film, the early reviews had me weary. But once the film got started, I was undeniably hooked in no time. Then the rest of the film happened. Nothing that happened for the rest of the film's runtime managed to live up to that first scene. It's all slow, methodical and for the most part, pretty boring.
The acting is very good, but some of these supremely talented actors have absolutely nothing to work with. Jack O'Connell is front and center throughout as Louie and he does an absolutely phenomenal job. His physical transformation is impressive, expressing the character's completely desperate situation. Whether O'Connell ever truly manages to explore the emotional side of Zamperini is debatable, but I don't believe that any of the script's shortcomings are his fault- he gives his all to this film.
Takamasa Ishihara is also quite remarkable in this film. Known mostly by his stage name Miyavi, Ishihara has an undeniable screen presence. From the beginning it's clear that Watanabe has it out for Louie and Miyavi makes "The Bird" a frightening and intimidating character. Once again, there isn't much depth to his character, but it's an impressive performance nonetheless.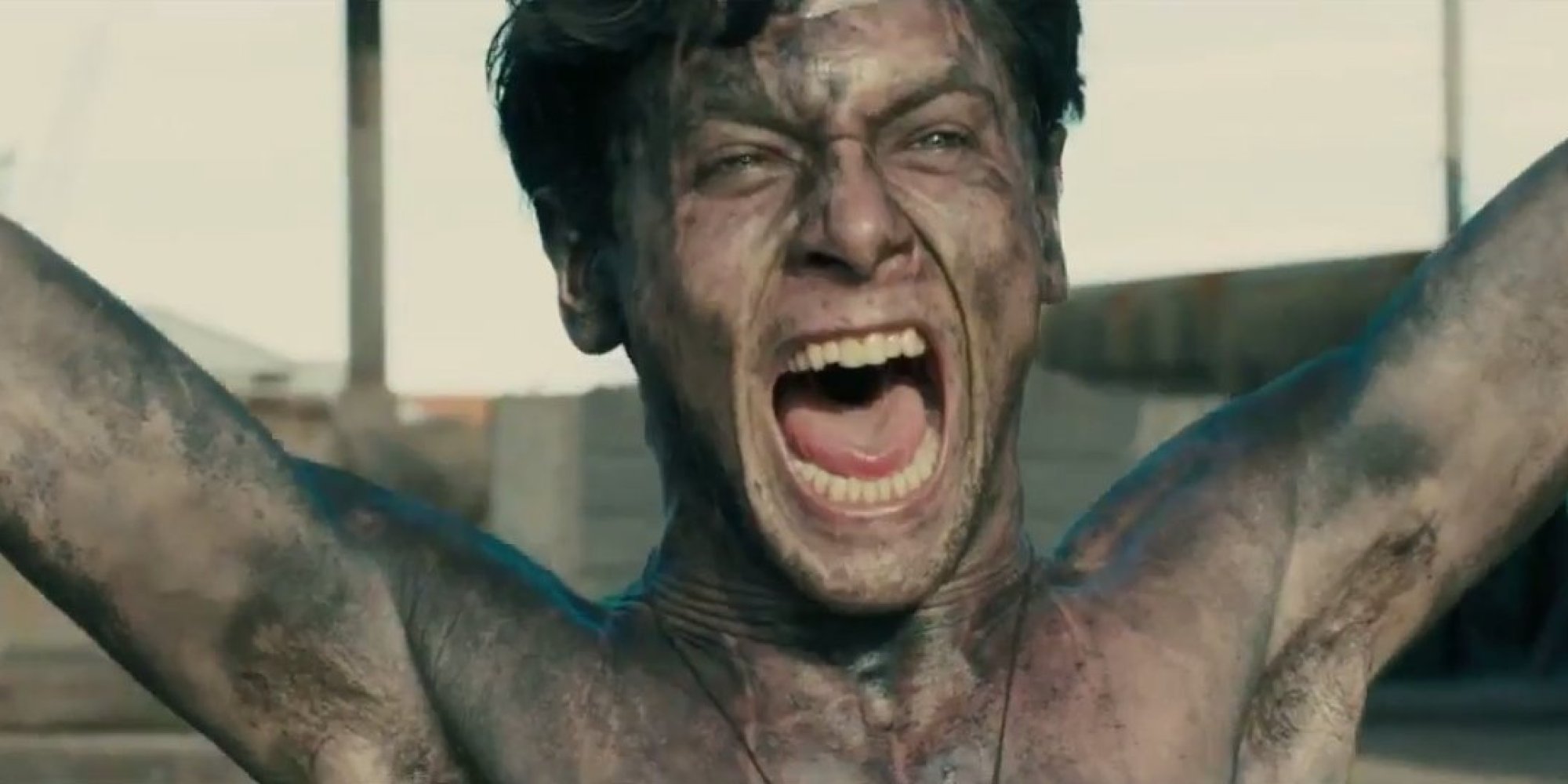 Louie and Watanabe are both surprisingly underdeveloped in this film, but it's nothing compared to what the script does to the other supporting characters. Domnhall Gleeson is one of the biggest rising stars in Hollywood, and with a role in
Star Wars: The Force Awakens
next year, it's clear that he's headed straight for the A-list. And he has a great character to play in this film. Gleeson plays Phil, who is an incredibly important person in Louie's life. He's his best friend during the war and the two have a really strong relationship that continued for a long time. In the movie, he's pretty much reduced to nothing. It's clear that he's Louie's friend and he's there for most of the scenes at sea, but we never get to know anything about him. If I hadn't read some of the book before seeing the movie, I would have never thought of Phil as an important character at all.
Same goes for Hugh "Cup" Cuppernull, Mac and Fitzgerald. Jai Courtney plays Cup and he actually does a terrific job. I was impressed by his performance and it gave me hope for Courtney in the future as he seems like an actor that will be big in Hollywood for a while. But his character is poorly handled as well. We get to know Mac (Finn Wittrock) a little bit better, especially during one of the more poignant moments on the boat. Fitzgerald (Garrett Hedlund) is also poorly developed. You really don't get to know anything more than that he's the leader of the prisoners in the internment camp.
On the technical side of things,
Unbroken
is flawless. Immaculately filmed, with beautiful cinematography from Roger Deakins and gorgeous production values. I can definitely see Deakins getting another cinematography nomination, but with Emmanuel Lubezki's
Birdman
also in competition, it looks like Deakins will end up going home empty-handed again. The score is pretty bland and forgettable, if there was one at all. Jolie opts to use silence to convey the power of the images and it occasionally works.
In the end, I can't escape the fact that this film bored me and wore me down to nothing. By the time this film reached its conclusion, I had nothing left to give. I didn't feel inspired or happy that Louie had made it out alive. I just felt exhausted from the brutal repetitiveness of the film. This might have been because I had just sat through
The Hobbit: The Battle of the Five Armies
before watching
Unbroken
, but I'm just going to assume that had nothing to do with it. The truth is, the last half of this film is dull and miserably tiresome, slogging along for way too long. The sea scenes aren't that much better and I was disappointed by the way that they handled Louie's early childhood as well.
Unfortunately,
Unbroken
ended up being just as disappointing as the early critics said. It's a film with flashes of greatness, but it's misled and it is pretty tedious throughout. Maybe this needed to be two movies, maybe it needed a better screenwriter (though I can't imagine anyone better than Joel and Ethan Coen) or maybe it needed a more experienced director. Whatever the case, this movie disappointed on many levels and should have been so much better and so much more inspiring than it ended up being.
THE FINAL GRADE:
C+ (6.2/10)
Image Credits: Variety, LA Times, Huffington Post, Hollywood Reporter, Daily Mail, Rama Screen