Certain films scream Oscar bait immediately when you hear about the subject matter. This year, some great examples of that include Eddie Redmayne's transgender drama
The Danish Girl
, the Carey Mulligan and Meryl Streep-starred women's rights drama
Suffragette
, and
Spotlight
, the story of the journalists who investigated the sex scandal inside the Catholic Church. Oftentimes, Oscar bait has a negative connotation- it's the term used for films that are simply screaming for awards. But every once in a while, a film with subject matter that is very Oscar-y rises to the occasion to become a masterpiece in its own right.
Spotlight
is one of those films. An
All the President's Men
for a new age of moviegoers,
Spotlight
is an instant classic drama that works as both an indictment of a terrible system of abuse and a celebration of the men and women who broke the story. Led by great performances, a wonderful screenplay and a sense of pacing unparalleled by most movies,
Spotlight
is truly magnificent.
Boston 2001. The Boston Globe's new editor, Marty Baron (Liev Schrieber), is arriving and there's a general sense of discomfort over how he'll be. The Globe's top investigative team is Spotlight, which focuses on long-term pieces about different aspects of the community. After a brief meeting with Walter "Robby" Robinson (Michael Keaton), Spotlight's team leader, Baron finds a story that just might require the team's skills. In Boston, there were many sexual abuse cases against the Catholic Church and Cardinal Law that ended up settled and pushed under the rug by the team of lawyers. Baron knows that there's a story there and he wants Spotlight to pursue it. Robby and Spotlight members Mike Rezendes (Mark Ruffalo), Sacha Pfieffer (Rachel McAdams) and Matt Carroll (Brian d'Arcy James) dive into the shady world of Church sex abuse, encountering neglected victims, lawyers with questionable motivations and a massive cover-up. What they'll find is a scandal beyond what they ever could have imagined.
In all honesty,
Spotlight
is a pretty flawless film. I can't find anything, even the smallest of nitpicks that I would really say detracts from the film. Does that mean that it's my favorite film of the year? Not necessarily, although it's certainly in my top ten.
Spotlight
is spectacularly efficient, steadily engrossing and deeply haunting, with a true master craftsman at the helm in Tom McCarthy. His career has been a series of ups (the acclaimed indie comedy
Win Win
) and downs (the critically panned Adam Sandler comedy
The Cobbler
), but with
Spotlight
, McCarthy has found a film that may finally bring him to the big leagues. By using the newspaper classic
All the President's Men
as its thematic and stylistic basis, McCarthy has created a new journalism classic. It's a story that is so compelling and important and it's told so well that I can't see anyone walking away from this movie unsatisfied.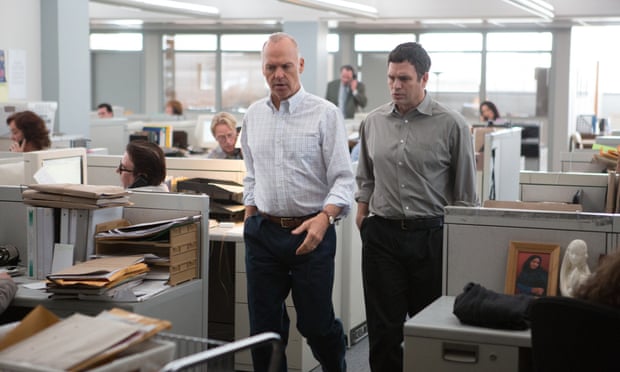 McCarthy and co-screenwriter Josh Singer are probably the main reason for the movie's success, but they were both blessed to score one of the year's most spectacular casts. This is an ensemble piece in the truest sense of the word, with no single actor stealing too much of the spotlight (pun intended) from the others. If I had to pick one star of the film, I would say Michael Keaton, the anchor of the Spotlight team and one of the more developed characters in the movie. Keaton, hot off his Oscar nomination for
Birdman
, is stellar here, with a steady, assured performance as Robby that has been praised by the real Walter Robinson for its accuracy. Keaton's Robby is persistent, but there's something going on under the surface and it makes for a really compelling portrayal.
For me, Mark Ruffalo gives the most thoroughly impressive performance as Mike Rezendes, the determined and good-natured workaholic who will stop at nothing to tell this story right. Smart, frenzied, and just a bit clumsy, Rezendes is an instantly likable character that also succeeds in being deeply cynical. Ruffalo has an exceptionally powerful monologue and some other great moments too, and he should undoubtedly get an Oscar nomination. Rachel McAdams and Brian d'Arcy James round out the Spotlight team and both give solid performances- McAdams as the sensitive, intrepid journalist and James as the caring parent, someone with a real connection to what's happening in the story.
But beyond even those four actors, there are many others who deliver top-notch performances. Liev Schrieber is noticeably muted in this flick, which is a change of pace from some of his previous outings. But there's something strong about Schrieber's portrayal of Marty- it's very subtle, yet simultaneously meticulous. Stanley Tucci has some funny moments as the dynamic lawyer Mitch Garabedian and some moments of true poignancy. Mitch fits into one of the recurring themes of the movie- whatever is happening on the surface, there's something deeper. Billy Crudup's shady Eric MacLeish fits into this quite well, and Crudup gives an admirable performance. Finally, John Slattery is superb as Ben Bradlee Jr., the son of Washington Post editor Ben Bradlee, who broke the Watergate story in the 1970s (the elder Bradlee was played by Jason Robards in
All the President's Men
). Slattery echoes Robards well, and is another stellar addition to a near-perfect ensemble.
Spotlight
may have the best cast of the year, but it is far more than a mere acting showcase. This is a great film, and to be a great film, you need great writing, directing, music and cinematography, among more things.
Spotlight
has all of that. The cinematography is rather subdued, but that style reflects
All the President's Men
well, continuing the parallels between the two films. In additon, Howard Shore's music is calm and quiet, but it reverberates throughout the whole film and makes an immeasurable impact on the overall film .
Ultimately, this movie belongs to Tom McCarthy and Josh Singer. The two men co-wrote the script, with McCarthy handling directorial duties, and without the two of them, I don't know if
Spotlight
would be as great. Singer and McCarthy's screenplay is smart and it's one of the true writing miracles of the year. Each character is so finely detailed, with their own fears, loves and motivations. On top of that, the pacing is steady and effortless. As the film continues, the story builds naturally to its terrific, cathartic conclusion. McCarthy's direction isn't showy or dynamic, but it is constantly effective, with McCarthy adding a significant amount of gravitas to what could have been a rather dull procedural.
Despite all of the top-notch fundamental ingredients, there is something extra in
Spotlight
that turns it into a great movie. For me, it's the fact that every character is so finely conceived and expertly crafted. There are no tedious stereotypes or stock characters in this film. Every character who seems to be going in one direction will suddenly change course in an unexpected way and it makes
Spotlight
an irresistible watch. It's that level of depth that separates it from other films.
A brilliant movie through and through,
Spotlight
is accomplished cinema. There isn't anything innovative or radical about this film. It is simply an important story told with precision, immediacy and depth. Keaton, Ruffalo and Schrieber are absolutely terrific in what could very well be this year's Best Picture winner at the Oscars. Directed by Tom McCarthy with expertise,
Spotlight
is one of the first slam dunks of the holiday season.
THE FINAL GRADE:
A (9.6/10)
Image Credits: Variety, The Guardian, Vulture, EW, Joblo