Going into the fall season, you'd be hard-pressed to find a more anticipated prestige picture than
Steve Jobs
. A script by acclaimed
Social Network
scribe Aaron Sorkin. The Oscar-winning filmmaker behind
Slumdog Millionaire
and
127 Hours
, Danny Boyle, in the director's chair. A cast led by Michael Fassbender, Kate Winslet, Jeff Daniels, and Seth Rogen. This is the stuff of dreams for most cinephiles. After its premiere at the Telluride International Film Festival, where it debuted as a surprise screening, audiences and critics went bananas. Alex Billington gave the film a 10/10, comparisons were made to
Birdman
, Fassbender was said to give an iconic performance, and the buzz went on from there. And when it hit select theaters on October 9, the film had the biggest limited debut showing of the year. But then it all fell apart.
When it went into wide release on October 23, facing off against a plethora of mediocre wide releases and the fourth weekend of Ridley Scott's
The Martian
,
Steve Jobs
completely imploded. It made $7.1 million in its opening frame and is barely pacing ahead of Ashton Kutcher's poorly received 2013 biopic
Jobs
. All within a few weeks,
Steve Jobs
went from being the talk of Hollywood, to just another awards drama that may or may not make the cut when Oscar nominations are announced in January. And that, my friends, is a true tragedy.
Steve Jobs
is one of the few films this year that deserves the title of "masterpiece." With an urgent, smart and energetic script from Sorkin, great directing from Boyle and a wonderful ensemble that surrounds Fassbender, who gives the best performance of the year so far,
Steve Jobs
is pure brilliance.
Undoubtedly one of the best decisions that Sorkin made was taking the traditional biopic of an important historical figure, and deconstructing it to create something fresh and innovative.
Steve Jobs
takes place over the course of 14 years, finding Jobs at the launch of three important products- the Macintosh in 1984, the NeXT in 1988 and finally, the iMac in 1998. This immediately distinguishes it from many of the other portraits of Jobs over the years and makes it more compelling. Sorkin also keeps a laser focus on six supporting characters and their relationships with Jobs over the years- Joanna Hoffman (Kate Winslet), John Sculley (Jeff Daniels), Steve Wozniak (Seth Rogen), Andy Hertzfeld (Michael Stuhlbarg), Chrisann Brennan (Katharine Waterston) and most importantly, the daughter that he denied for years, Lisa Brennan (played by multiple actors at different ages). By setting the story over such an expansive period of time but with such a limited scope, Sorkin is able to create a film that feels grand in size, but also intimate and personal. It's a savvy choice and one that defines the movie.
Steve Jobs
does have the setup of a stage play, but in this case, I wouldn't necessarily say that's a bad thing. Sorkin stages the dialogue and the conflicts between the characters with such a raw, visceral intensity that this movie practically raises your heart rate. And the best thing is that the actors know how to use the dialogue. Every line has the impact that it should and the verbal sparring between the characters never gets old. That intense impact is mixed with Boyle's assured direction, the grainy mix of 16MM, 35MM and digital film captured by cinematographer Alwin H. Kuchler, and the terrific use of editing and music, which makes for a very powerful and stunning film experience.
The technical elements all work perfectly, but this movie absolutely doesn't work without the commitment of every actor in the cast. Michael Fassbender's performance is stunning, iconic and certainly Oscar-worthy, capturing the good and bad of Steve Jobs. One of the best things about this movie is that it isn't afraid to shy away from an important fact- Steve Jobs was kind of an ass. He made life miserable for his closest friends and confidants, refused to credit all of the work that his team did on the Apple II, and probably worst of all, did not acknowledge his own daughter for years. These are things that a good person usually doesn't do. Fassbender is able to channel Jobs' brilliance and his flaws, making for a performance full of gusto and swagger. Loud, proud and commanding every bit of your attention on screen, Fassbender's performance is one that I think we'll be talking about for a very long time. The mannerisms, the voice, the intensity- everything is absolutely perfect.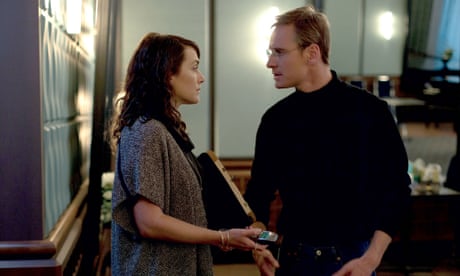 Kate Winslet will also be receiving some Oscar attention for her portrayal of Joanna Hoffman, Jobs' loyal assistant for years. Winslet's Eastern European accent fades in and out at times, but there's no denying how good she is in this film. Throughout all of the highs and lows, Hoffman is right by Jobs' side, trying to weather the storm and make Apple run. Winslet smartly treats Hoffman as the audience's window into the Jobs universe- she's likable, friendly and isn't in a constant competition to race to the top. It's a great performance and one that should get some major love.
Michael Stuhlbarg does great work as Andy Hertzfeld, a programmer who often receives the brunt of Jobs' hateful intensity. Stuhlbarg is a terrific character actor, great at playing sweet characters who are easy to love. Hertzfeld is a very likable character and Stuhlbarg deserves to be in the conversation for the Best Supporting Actor Oscar. Seth Rogen does a good job as Wozniak, but he really isn't given much to do in comparison to the rest of the cast. But I will say, it was odd seeing Rogen in a role that didn't involve him spewing lots of vulgarity. It was a nice change of pace for Rogen, and I hope that he takes more of these roles in the future. Jeff Daniels gives a bittersweet performance as Jon Sculley, and Katharine Waterston portrays just the right level of damaged crazy as Chrisann Brennan. All around, this is a terrific ensemble and one that deserves a lot of praise.
"You're not an asshole, Mark. You're just trying so hard to be." This is the closing line of Aaron Sorkin's masterpiece
The Social Network
, which takes a look at a good, regular guy who is caught up in a world of greed and politics. The difference between Mark Zuckerberg and Steve Jobs is pretty clear and defined, and in my mind, it is the critical difference in theme between the two films- Zuckerberg is a good guy, Jobs is not. Visionary, yes. Revolutionary, sure. Good family man and friend- absolutely not. I think that it was really critical for Aaron Sorkin to take a hard, intense look at who Jobs really was and what he did to people.
And here's where I think that
Steve Jobs
sets itself apart from many other standard, Oscar-y biopics.
Steve Jobs
is a deeply sad film. Crushingly, heartbreakingly sad. In fact, despite my hesitance to make this comparison, I have to say that this film is in many ways comparable to
Citizen Kane
. Will it be remembered the way that
Citizen Kane
is today? No way, the film isn't nearly as revolutionary as Orson Welles' 1941 masterpiece. But both films are about a great man, someone with vision, brains and power. Both are damaged by what happened in their childhood. And they both self-destruct because of their arrogance and ego.
Granted, Jobs gets his triumphant comeback in the end, but Sorkin is smart enough to not inject the film with too much sentimentality. I think that, for the audience's sake, Sorkin closes out the story of the daughter-father relationship with enough of a happy ending for people to be satisfied. But don't mistake that for a happy ending. At the end of the film, his friendship with Woz is still pretty contentious. Hertzfeld and Jobs don't exactly end on good terms. And the final scene between Sculley and Jobs is devastating- I can't remember the exact quote, but it basically says that if Jobs and Sculley could have worked together, nobody can even dream of the results. Jobs may have atoned for some of his sins in the end, but it didn't all end happily. Through all of this, Sorkin is able to capture Jobs' personality and I really think that this might be the defining portrait of the tech mogul.
The failure of
Steve Jobs
at the box office is one of the most frustrating things to happen this year. This is fantastic, entertaining cinema filled to the brim with electric pacing, wonderful performances and the year's best script. The technical elements are all exact and precise, leaving Michael Fassbender to dominate the screen as the iconic tech giant. Without a doubt in my mind,
Steve Jobs
is one of the year's best films and a movie that history will look back on very favorably. Entertaining, smart and sad in equal measure,
Steve Jobs
is an instant classic.
THE FINAL GRADE:
A+ (10/10)
Image Credits: The Hollywood Reporter, Variety, The Guardian, Screen Rant, Joblo